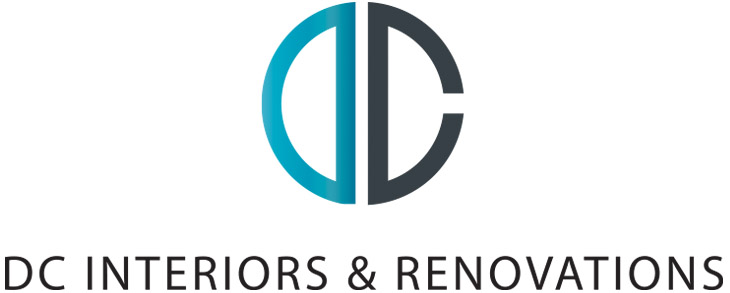 I hired DC Interiors & Renovations for my condo remodel. I wanted to update kitchen cabinets, countertops & lighting along with choosing living room furniture. We had a wonderful first meeting with in-depth discussion of what I wanted to accomplish. I was so impressed with the design team of Deb & Alana, that I also decided to update both bathrooms – cabinet, lighting, hardware & mirrors. They listened to my preferences, colors, etc & presented selections which enabled me to decide easily which direction we were going. I had the opportunity to meet with the subcontractors – all very professional. The work schedule was drawn up & updated so I always knew status of project. The project was completed on time. Deb & Alana both have an excellent eye for design & my living room furniture, counter stools, rugs & artwork are over the top. Very, very satisfied & highly recommend.
It was an exciting experience working with DC Interiors and Renovations on our project. As amateur remodelers, our original plan called for a simple upgrade of our horseshoe-shaped kitchen, painting the dark cabinets, adding a pantry, installing some new appliances and pendant lighting.But Deb Corning took one look at our 35 year old kitchen and proceeded to show us what could be, opening our imaginations to things that we never considered before. What was once a kitchen separated from the dining area by a peninsula was turned into an open and inviting space with the addition of an island that joined the two rooms together.After we settled on the new kitchen layout, Deb walked us through the selection process; reviewing flooring samples, cabinetry, light fixtures, backsplashes, furniture and the other design elements that go into the finished product. She also introduced us to her subs that would be performing the work on our kitchen and we were able to tell them exactly what we wanted.It's hard living without a kitchen for 6 weeks but the wait was made easier because all of the contractors who worked on our project were true professionals who treated our house with respect throughout the construction phase. Any construction job can be a daunting prospect but it will be made easier if you choose the right people and we did just that with Deb and her team.
Deb and I have been bouncing in and out of each others lives for several years, as we strive to build our businesses in the same community. Dedicated, persistent and diligent in the service of her clients, she brings these same qualities to her relationships with other entrepreneurs. After twenty years of making it work, Deb is a tremendous role-model for aspiring women, who have yet to learn the lessons of adaptability, flexibility and innovation that have enabled DC Interiors to remain relevant and successful in a rapidly changing world.
Deb Corning is a creative designer who will encourage her clients to dream beyond the expected outcome.
Deb did a nice job pulling our project together. She brought good subcontractors into the project and worked well with them to make for a great end product.
We had a 100+ year old home in Waunakee, and not all the rooms and styles fit with the era the house was built. Deb helped to remodel the kitchen so that it fit with the rest of the home. She even matched the color of the glass panes of the windows, to the glass panes of the cabinets in the kitchen. Everything was cohesive and flowed with the rest of the home. Deb took the time to really understand our style and tastes. She listened well and whenever she made suggestions; we always felt like "why didn't we think of this?…That's exactly what we would want!" If we felt a suggestion was too out of budget or for some reason we did not want to move forward with it, she was open to presenting further ideas. There was never any tension.Now we LOVE showing off our home! When other family members or friends come over, they are so very impressed with how well everything was done The renovations Deb did honored its 100+ year history. The house flows and matches and now all fits. The unified appearance creates a whole and peaceful feeling. One of the greatest things about working with Deb is that she has connections with really good subs, who work well with her. Using Deb for interiors design and general contractor helped save us time and money, we had the utmost trust her partners. They were always attentive and we had trust in them because we trusted Deb. We have and will continue to refer business to her.
After finding the potentially perfect home, the question becomes what has to be done to make it truly perfect! To the type of person who knows what he likes when he sees it, but doesn't have the foggiest notion of how to create it, the task can be daunting. Faced with that situation, I had the good fortune of being introduced to Deb Corning of DC Interiors and Renovations.Deb was recommended to me by my realtor as being a very talented Interior Designer as well as a keenly perceptive individual, and by the end of our second meeting I knew that she had an intuitive understanding of my tastes, as well as the wants and needs that would go into creating the perfect home. Of particular appeal was the fact that in addition to her design skills Deb is also a licensed General Contractor, which was important since I would be living 500 miles away while all of the activity would be taking place.The project involved the remodeling, decorating and furnishing of my newly purchased home, and I couldn't be more pleased with the process, or the results! Deb proved to be a very effective project manager, and her frequent communication, and insight as to "what made me tick", resulted in our periodic meetings serving as more of an opportunity to admire the results of her efforts than to provide a "course correction". Her attention to detail was impressive, resulting in a connectedness that flowed between rooms rather than there being a patchwork of decorated islands, and thoughtful answers were provided to design questions that I hadn't even considered. What had been a daunting task had firmly been put under control.When friends now visit my new home for the first time their comment is invariably the same: "Wow, this is just perfect!"
I really liked Deb's sense of tastes, color and space planning. Her ability to pick up on my sense of style and what was important to me and the design around it, made the project go smoothly. Deb pointed out some super ideas for my kitchen. By rearranging one small end of the room, it became more efficient and inviting.
Our home was a disaster before Deb. It was dated, nothing matched and we felt we needed to start over. Deb helped us through the entire project including the windows, siding and entrance. Deb was able to guide us, build confidence and eased our minds. She always gave us an honest answer and protected us from making a costly mistake. She saved us an incredible amount of time and that helped to keep the process moving along.My husband has a Badger memorabilia collection and we thought only red and white were the colors we should use, but Deb helped to suggest other colors that now highlight the pieces even more – it really opened our eyes as to how important it is to have a professional do this. At first we didn't think that we could say "I have a designer" but we found that by working with Deb it paid off. We saved time and money and would have never been able to come up with the same results. We love it! Remodeling is a very stressful thing…for us it was as a nightmare…but by working with Deb it made things so much easier. It was the right investment, even within our practical means.
I especially appreciate Deb Corning and her staff, Project Manager Renee Degelau and assistant Alana Barrera, for designing and organizing the remodeling of my 27-year-old home. The trained judgement of the designers provided me with appealing choices of colors, styles and materials, while my own choices and budget were respected.Carefully selected, skilled subcontractors worked on the construction project with diligence and precision for three months, educating me about their materials and techniques, while the process was monitored daily by DC Interiors. The results are very impressive.I would advise do-it-yourself builders to consider instead the special advantages of hiring the experts of DC Interiors and Renovations.
I used Deb to help redesign our living room. She definitely created the "wow" factor. People walk into our house, look into the living room and are absolutely amazed. She chose a wall color that I never would have picked or thought about, and it totally makes the room. I would highly recommend her. She has integrity and is creative, professional, and personable!
Deb Corning is an excellent interior designer, with great vision and creativity. We've been very happy with the work she did in our house.
Thank you for a beautiful job remodeling my kitchen. Everything came out gorgeous.
The first time I met Deb, I appreciated her warm and welcoming open mindedness. One thing that impresses me most about Deb is her ability to approach a homeowner's project with an interior designers experience and eye, while being able to apply practical and efficient construction techniques, making her the perfect choice for families that want interior design, project design and overall construction all with one experienced professional. As an active member and leader in NARI you can trust that Deb is well trained and qualified in all aspects of design, remodeling and general contracting.
I find Deb to be an extremely creative and knowledgeable designer. Her work as a general contractor provides great oversight abilities; works well with others in a team-like atmosphere and is diligent about staying on task and on budget.
DC Interiors did a great job on my bathroom remodel. They were very reasonably priced and did high quality work. Our designer Alana, came over every day the project was going on and I really appreciated that. I always knew the status of the project and she was there to answer any questions I had. The carpenters were very courteous and always cleaned up after themselves, which I also appreciated. I would highly recommend DC Interiors to anyone!
We wanted a "modern elegant theme" and Deb helped transform our home from nice and basic to warm, modern and elegant. Our style may not be the style of many others, but Deb took the time to learn what we wanted and produce it. Deb was very open and honest and wouldn't let us spend money on items that were not in keeping with the theme of our house. If we weren't 100 percent happy with an option she gave us, we felt it was very comfortable saying so. Deb never pushed us into something we didn't want she would just give us other options.We have been working with Deb for over five years. Our last home sold within 24 hours and now we are on our second home with Deb. She is always right on target with what we are looking for and this remodeling project we wanted to take it up a level. Again Deb did her magic and it is spectacular. We love it! We consider her an asset to anyone who is thinking of remodeling or even just updating. We recommend her over and over.
Deb is very easy to work with. She provides great subcontractors and pays attention to our budget constraints. She is particularly good at listening to our needs and making sure her suggestions fit our lifestyle. We are very pleased with the results of her work.
Showroom
3000 Cahill Main, Suite 215
Madison, WI 53711