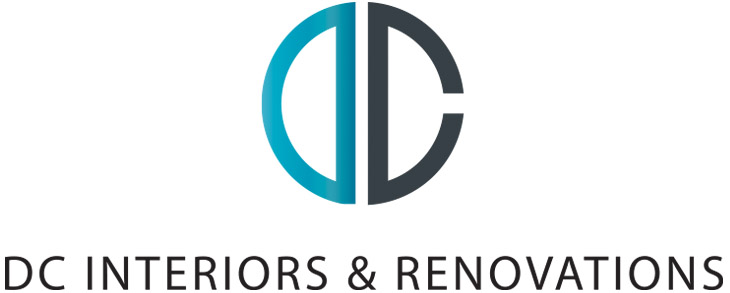 3D Design – High-tech Images Speak Volumes
Whether you're contemplating a one-room renovation or a whole home remodel, applying 3D design techniques delivers eye-catching results. Are you a person who will "know it when I see it," when it comes to the perfect design for your Madison WI area home? Some people can grasp details from a pencil sketch. Most cannot. Traditional blueprints, sketched mockups and drawings tell a story. But they never compare to the detail and information presented via 3D modeling software.
Presenting interior design principles in three dimensions supports all the elements of space, line, form, light, color, texture and pattern. It's as if you're looking through a window into your new room. You quickly see how cabinetry, floor and wall coverings and furnishings work together.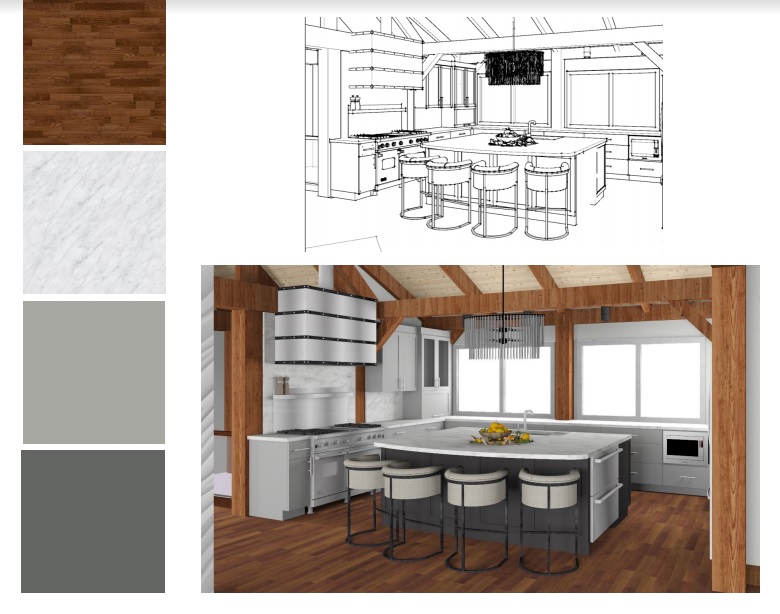 3D Design – Visual Keyes
Remodeling plans are all about visualizing what might be. Bringing ideas to life. Even professionals have a hard time doing that. When you commit to a remodeling plan you envision something special, don't you? Before the process begins you need to be comfortable with what's ahead. You cannot take a picture of what will be… or can you? That's where 3D modeling comes in.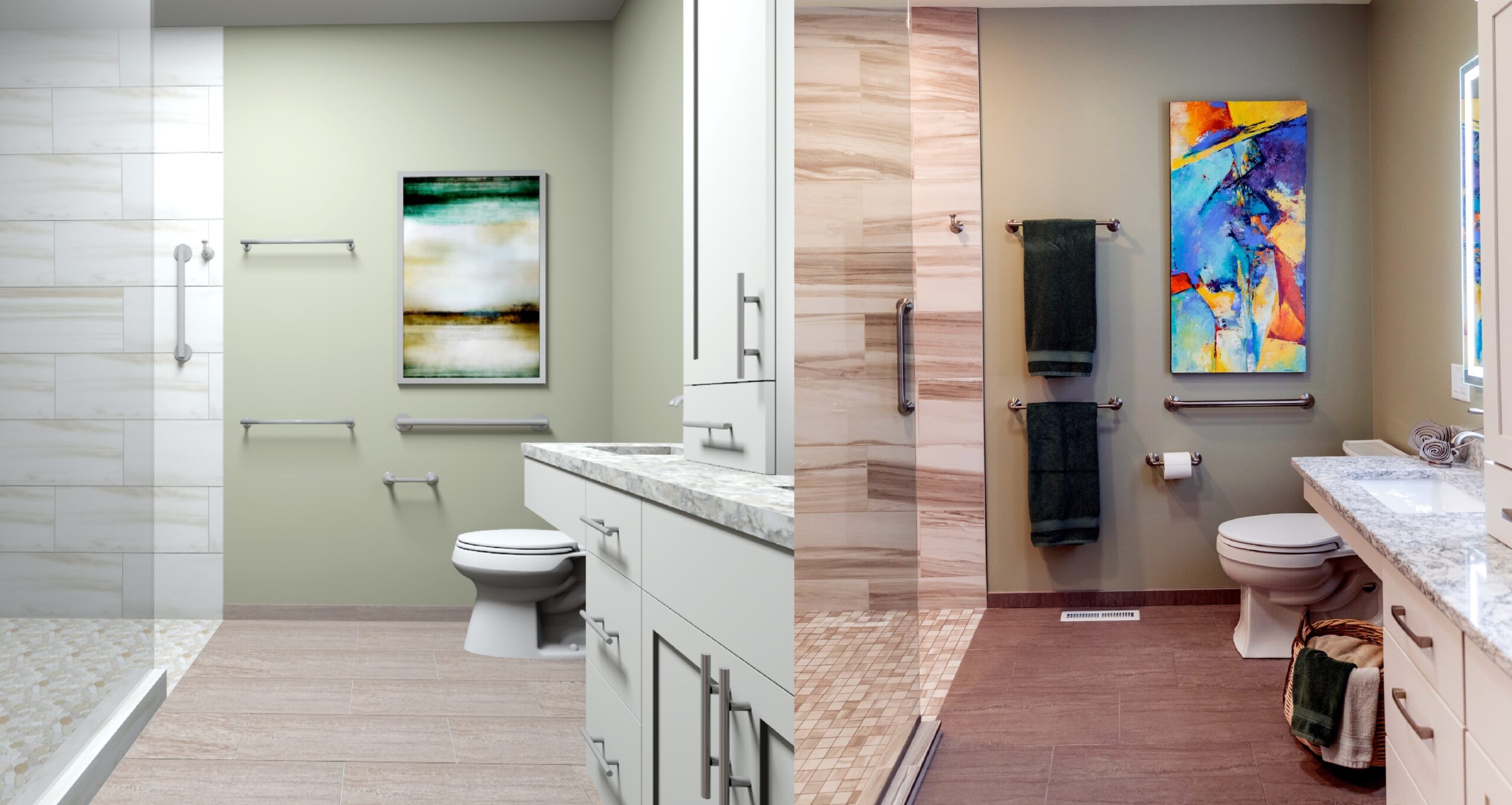 Which is "real" and which is the computer-generated preview?  With modern technology
it's harder and harder to tell – and that's a good thing, isn't it?
3D room design software is based on technical computer aided design software (CAD) used by engineers for decades. Experienced interior designers have adopted the techniques in programs like SketchUp to create digital room plans and exterior renderings. These technical, extremely detailed images allow you to see what can be. You can almost touch and feel the rooms. Created on a computer screen, 3D room designs can be printed for hands-on review.
Benefits of interior designers presenting digital views to homeowners include:
Easier understanding of the overall goals and experience.
Conveying confidence in the plan – ready to move forward.
Building peace of mind for homeowners – you have a great "picture" of what to expect.
Smoothing the approval process – homeowners see what's planned and can make changes quickly without holding up the job. 3D room designs are based on exact measurements. You appreciate height, length, width and more importantly, depth in three dimensions.
What you see is what you will get – are you a contractor or engineer? If not you likely are not comfortable translating dimensions, measurements and degree markings on a blueprint or plan. What they heck does "30 degrees parallel to the corner" mean to you? Nothing, right? A picture of that corner would be easy to figure out, though, wouldn't it?
"I really liked Deb's sense of tastes, color and space planning. Her ability to pick up on my sense of style and what was important to me and then design around it, made the project go smoothly. Deb pointed out some super ideas for my kitchen. By rearranging one small end of the room, it became more efficient and inviting."
– C. G. Madison, WI
More Efficient Room Layout Design
Using 3D images provides for strong communications between interior designers and homeowners. These room design tools provide for clear and efficient interior design presentations. 3D room design is easy to translate and approve. Or, suggest changes. With modern computer techniques, it is easy to play "what if" with the designers at DC Interiors & Renovations. When you say, "what if this cabinet was taller," it takes a few clicks and creative movements to see what you're suggesting. Unlike the old ways that took hours at best, maybe days. You do not spend nearly as much time discussing options nor do you settle for something you're unsure of. 3D images reveal design flaws so problems don't occur during construction – problems and changes that slow down the process and cost money! Combining the latest digital technology with designers' experience, skill and perspective insures efficient communications as the project plan unfolds.
"It was an exciting experience working with DC Interiors and Renovations. As amateur remodelers, our original plan called for a simple upgrade of our horseshoe-shaped kitchen, painting the dark cabinets, adding a pantry, installing some new appliances and pendant lighting. But Deb Corning took one look at our 35-year-old kitchen and showed us what could be, opening our imaginations to things we had never considered. Any construction job can be daunting but it will be made easier if you choose the right people and we did just that with Deb and her team."
– Dan and Ruth, Verona, WI
Eliminating risk of construction delays is worth lot. If you've ever been part of a remodeling plan, you know how costly late changes are. The smallest, seemingly simple (to you) change halfway through a project is more than inconvenient. It costs money and creates difficulties for craftsmen that have a domino effect throughout the construction team. At best, late changes waste precious time; worse, they cost unbudgeted dollars. In most cases both! Relying upon a 3D remodeling tool will not eliminate every possible change or problem, but it goes a long way toward efficient results.
Applying Creative Design Software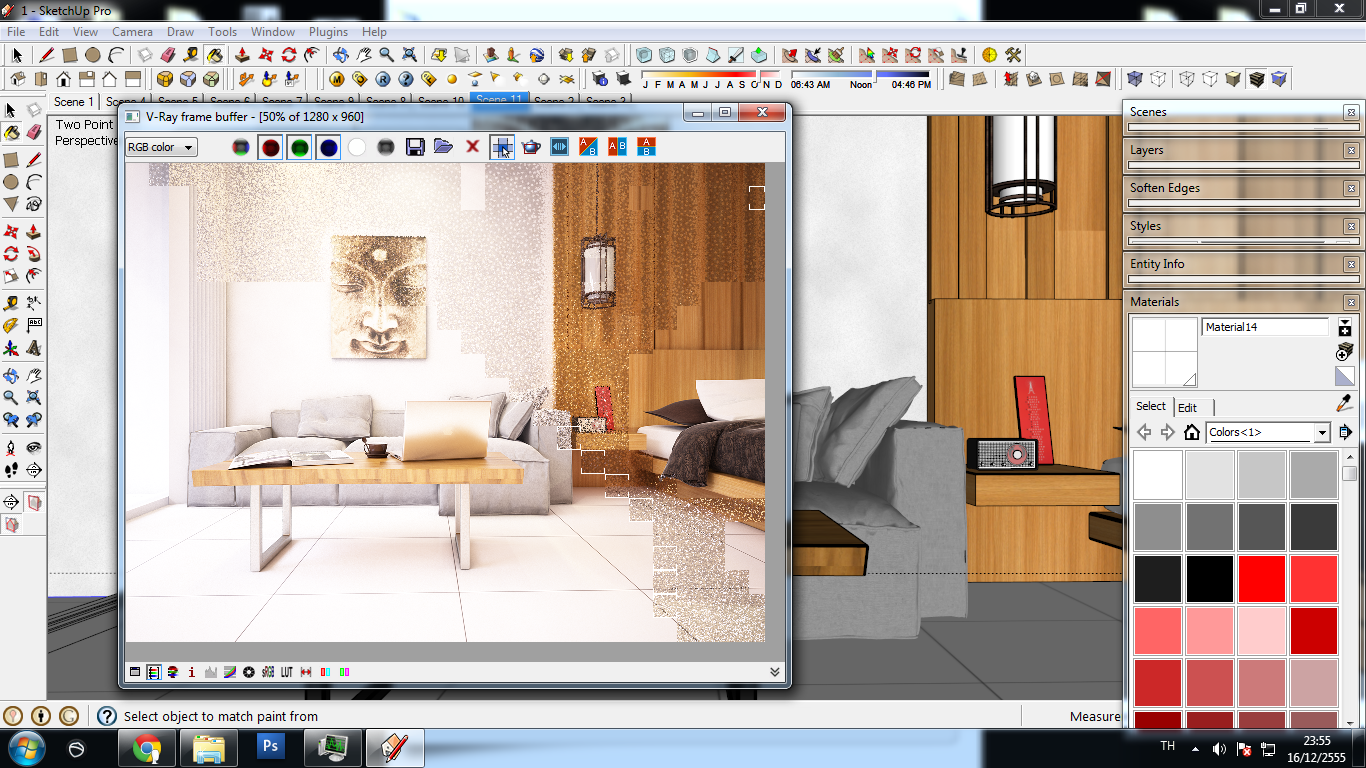 SketchUp, the 3D design software used by DC Interiors' designers, is a professional design planning tool. Using the creative features of the software designers "build" walls, insert doors and windows and add cabinetry, counters and appliances. Suggestions for furniture placement, size and shape can be included. Appropriate colors and textures are easily built into room designs showing special effects with light and shadow.
Applying computer technology to the interior design process helps homeowners visualize what to expect.  It also streamlines the process for experienced designers.
Creative design software helps everyone avoid mishaps, including:
Balancing the space – elements like textures, colors, shapes, precise details and overall size impact the balance (or imbalance) of a room. Out of balance, a room may feel overloaded or as if something is lacking. A 3D model quickly identifies overloading – well before anything is ordered!
Buying right – one size does not fit all when it comes to furnishing or cabinetry. You may love a cabinet style or piece of furniture but you don't want your new room to be "crammed" with stuff, right? 3D remodeling tools take into account ceiling height and the overall size for every piece of the puzzle. Visualizing scale in the program provides a graphic image of how everything relates – to each other and the space.
Room to breathe – every room needs what's called "negative" space. Space to move around and places to rest the eye. Well thought-out designs leave plenty of room without obstacles, visual and otherwise.
Jumping ahead in the process – space planning via interior design tools like these comes before ordering and buying fixtures and furniture. Or, if you've already discovered the perfect sofa or light fixtures, digital design makes it easier to fit them into the plan.
Rely Upon Design Professionals With The Latest 3D Design Skill
The thought of committing to a major renovation plan is daunting, isn't it? Even if you've done it before, it's a challenge. Not only is it a commitment of resources, it's a commitment of family time. If you're reluctant to make the final decision you're not alone. Fortunately you have a team of skilled, experienced professionals capable of wielding the latest technology on your behalf.
The experienced interior designers at DC Interiors & Renovations are just a phone call or email away. The interior design team works with computer aided design challenges every day. It has been providing 3D room design solutions to Madison area homeowners for years. The final results are shown in our online portfolio. To explore how we can apply 3D modeling to your vision, make an appointment to visit us in Fitchburg. Or join us or electronically. The DC Interiors & Renovations designers are available to help bring your dreams to life, applying the latest 3D design technology to plans for your Madison WI home.
Showroom
3000 Cahill Main, Suite 215
Madison, WI 53711