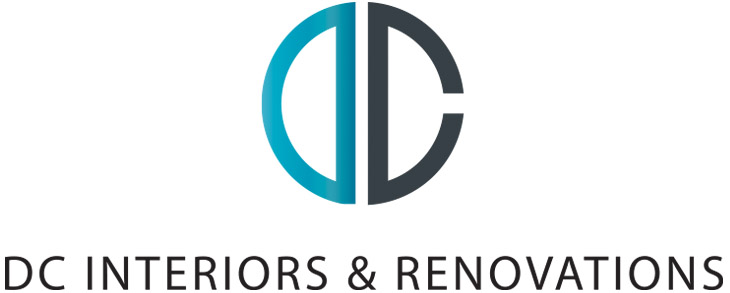 Transform Your Lifestyle with a Bathroom Remodel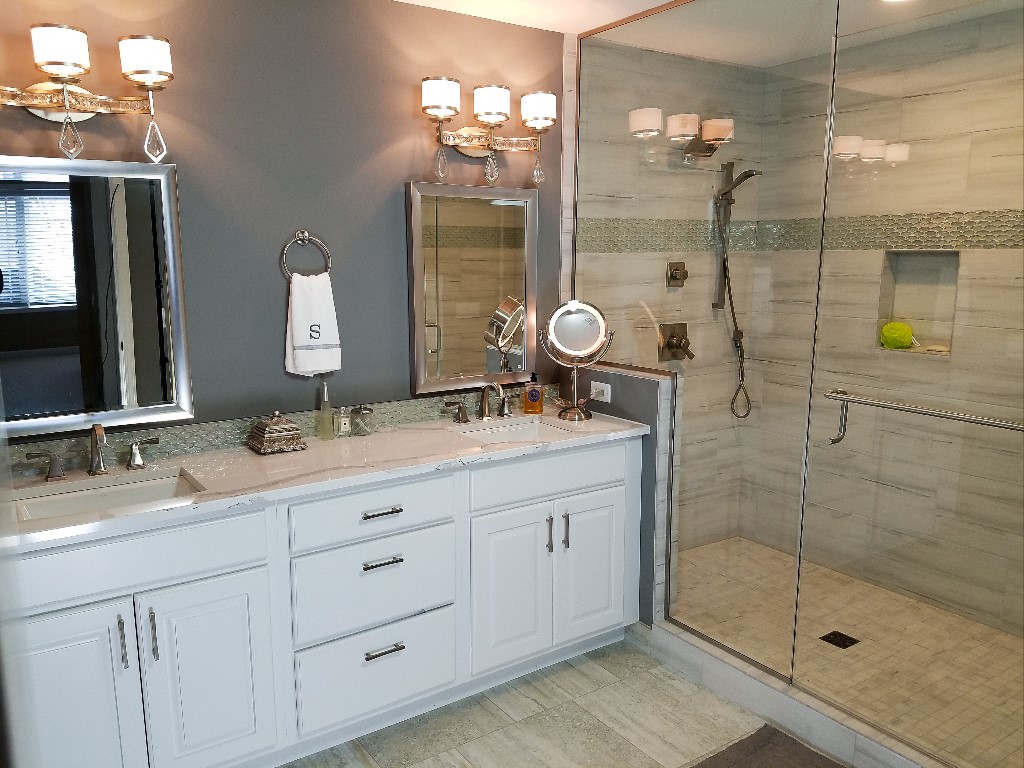 If there's a room in your home too often taken for granted, it's the bathroom. However, when you work with a designer to create your personal bathroom you do more than change cabinetry, counter tops, plumbing and fixtures. Most importantly, you change the way the space feels and the way you experience it.
Our interior designers know how to blend functional, timeless and unique amenities for a simple renovation or to create a spacious spa-like addition. Incorporating unique, creative bath design enhances your lifestyle. We understand the importance of the bathroom and excel at turning an ordinary space into a luxurious surrounding.
Bath Design Elements Set The Mood
Every day starts and finishes in the bathroom. It's where you set the tempo for a day of work or play. Employing the latest in technology wrapped in your personal style, we create bathrooms to stimulate your senses and provide a relaxing retreat. Bathrooms are private, personal spaces – they should embrace your personality.
A bathroom remodel begins with your dream. Collect your favorite thoughts, dreams and fondest wishes. Share them with us and let us transform your wishes into reality. Ask yourself: What would make my bathroom truly special?
Our Interior Designers Visit Your Home
Getting to know you is important. We consider it to be so important we'll provide a complementary consultation in your home. Where we will learn your preferences and tastes while getting a close look at the layout of the project. We will share ideas for options and opportunities to reflect your personality and lifestyle while reviewing potential costs and our design and renovation process. Review our process.
Bathroom Remodel Considerations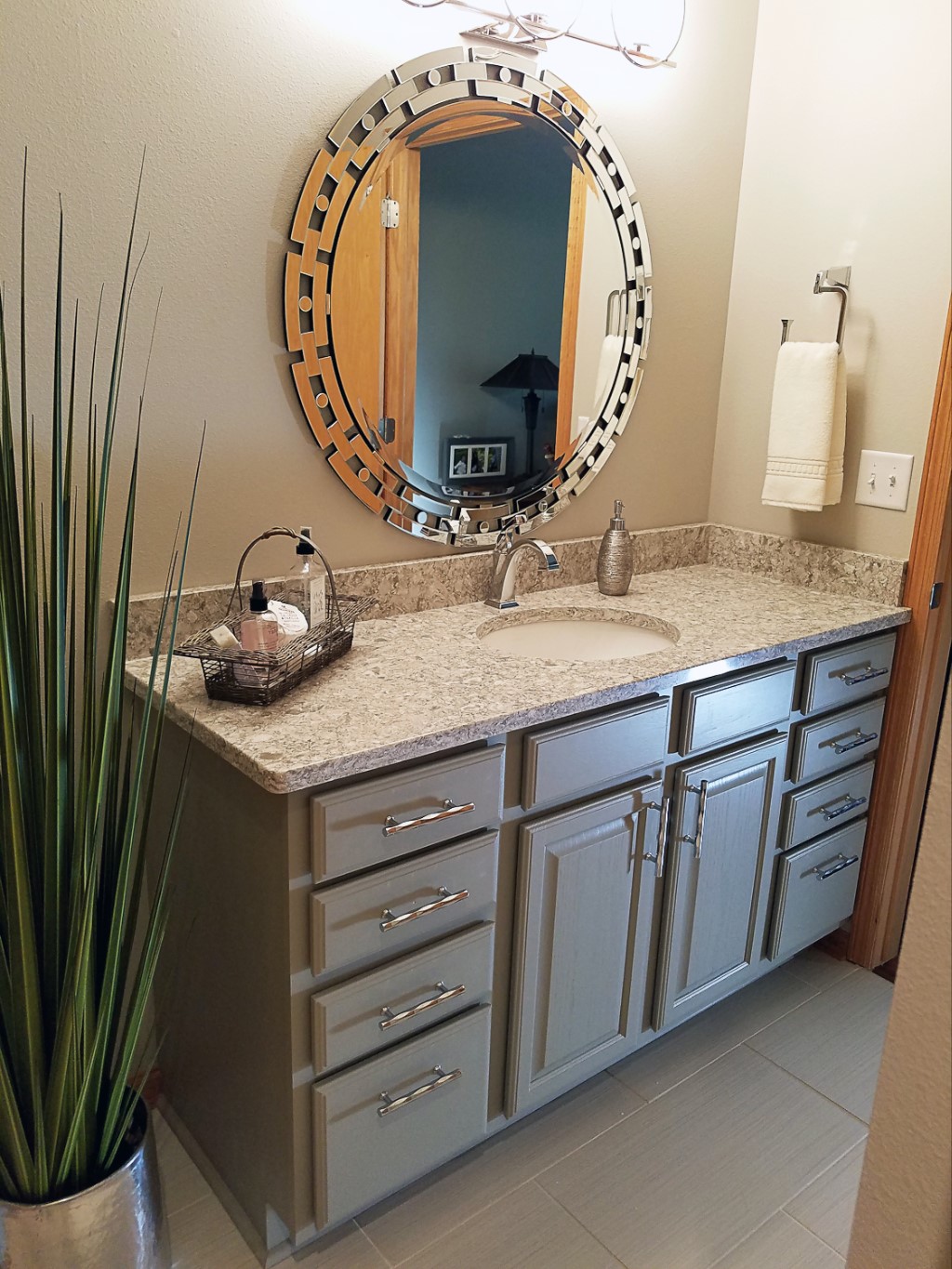 What features top your wish list for the ultimate new bathroom? The design process begins with your wish list. Put your wish list on paper:
List all the features that capture your imagination – from vacations, websites, the local Parade of Homes, home improvement television or publications.
Are there changes you really need – more light, more space, easier access?
Which elements in the current space do you want to keep?
How much can you spend – what's your all-in budget?
Many aspects of a bathroom remodel are based upon how they make you feel. Make sure each addition to your wish list makes you feel great!
Thoughtful Planning
The bath design plan is an extremely important step. Thoughtful, detailed planning leads to an exceptional finish. During this phase we consider different opportunities, including:
A complete floorplan change – moving or altering walls, adding windows, etc.
Adding or expanding storage – incorporating a linen closet, open shelves, etc.
Upgrading or adding mechanical systems – a larger hot water heater, additional ventilation, etc.
It is all about details with impact – turning a good design into a memorable creation.
Completing The Ultimate Bathroom Remodel
Once all the design elements are in place, and the construction process is scheduled, it is time to add your personal touches. Deciding upon the size, shape and theme of the room is exciting and important. Finishing it with all the right accents – colors, textures and materials – make your new bathroom one of a kind. It is truly yours. You begin with dreams and ideas. Your interior designer introduces new avenues for you to explore. Together you select the exact blend to give life to your imagination and substance to your dreams.
From Bath Design To Completion – You Are Never Alone
From Day One you are never alone with DC Interiors & Renovations. Beginning with an informational meeting, we build your dreams through open communication and dedication to details. Our designers are experienced in every phase of a bathroom remodel from conception through construction and décor. Visit our Bathroom Photo Portfolio.
Whether you are modernizing your existing bath or expanding with the latest of everything, our team will exceed your expectations, delivering a stunning bathroom remodel for your home in Madison and surrounding areas.
Inspiration Galleries
Showroom
3000 Cahill Main, Suite 215
Madison, WI 53711