Transform a Lifestyle with a Bathroom Remodel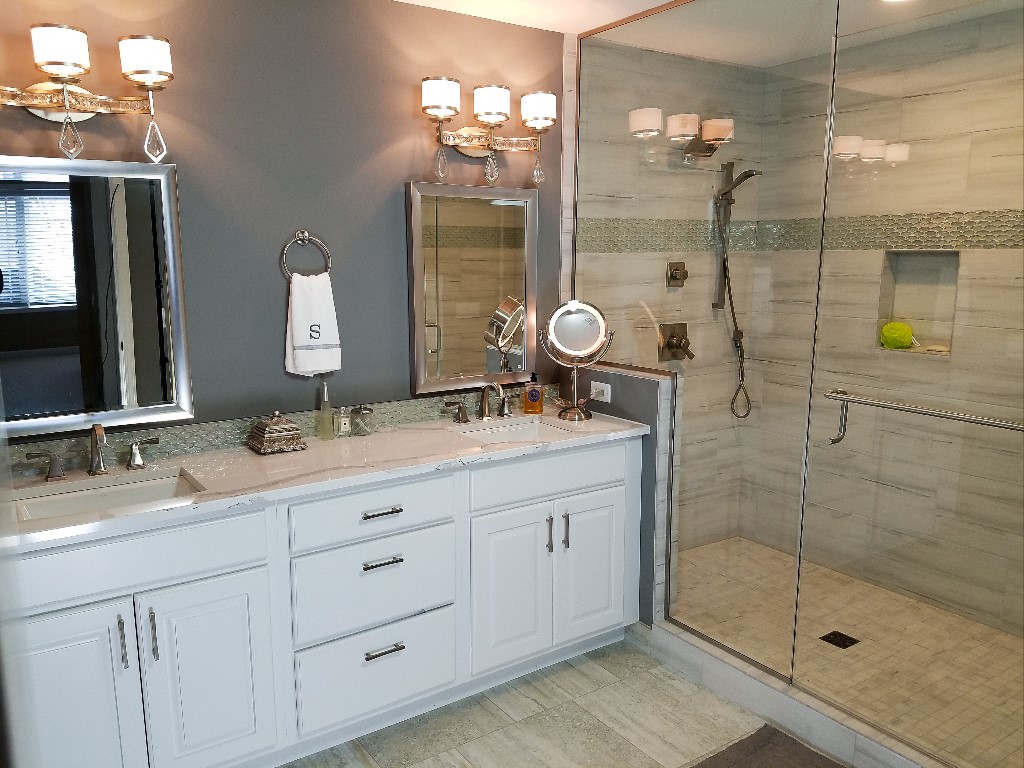 A bathroom remodel will change your life. If there's a room in your home too often taken for granted, it's the bathroom. Your own personal bathroom design changes that. Not only does it change the fixtures, cabinetry and lighting, it changes the way you look at the space. Incorporating unique, creative bath design enhances your lifestyle. We understand the importance of the bathroom and excel at turning an ordinary space into a luxurious surrounding. Our interior design specialists know how to assemble all the amenities for a simple renovation or to create a spacious spa-like addition.
Bath Design Elements Provide Ambiance
Every day starts and finishes in the bathroom, setting the tempo for a day of work or play. Employing the latest in technology wrapped in the latest fashion trends, we create bathrooms to stimulate the senses and provide a relaxing retreat. Bathrooms are private, personal spaces. They should reflect your personality.
A bathroom renovation, from a basic up-grade to creating a spa-like retreat begins with a vision. Your vision. Bring that vision to us and see how we can transform it into reality – your first consultation is absolutely FREE.
Bathroom Remodel Considerations
If you could have your ultimate new bathroom today, what would you want? That's the place to start as you develop a plan. Consider:
What do you want?
What do you need?
What would you keep?
What special touches would you include?
The bath design plan is an extremely important step in creating your dream space. Thoughtful, detailed planning leads to an exceptional finish. In the planning stages, there are opportunities homeowners often overlook, including:
A complete floorplan change – moving or altering walls, adding windows
Expanding the entire space with a bumpout or a bay window
Adding or expanding storage
Adding new fixtures and features
Upgrading or adding mechanical systems – a larger hot water heater?
Assembling all your ideas becomes the basis for our professional interior designers' plan. Few combine the art and science required to transform your thoughts into action like the designers at DC Interiors and Renovations. For us, it's all about the little things – the details turning a good design into a memorable creation. We are immersed in the latest trends in everything from flooring to water-conserving fixtures and bring years of hands-on experience to your project.
Add Value and Pride With a New Bathroom Remodel
Throughout the country, remodeling one or more bathrooms is among the most popular home improvements. Surveys of national realty firms underline your return on investment. Studies show an up-to-date master bath and an efficient guest bathroom are near the top of the "must have" list for home buyers. Remodeling bathrooms is money well-spent.
Our interior design pros will help you add style, function and value to your home.
Integrity * Passion * Trust * Relationships
These concepts underline everything we strive for. With us, you're never alone in the process. We build relationships through communication. We're dedicated to details. Our designers are experienced in every phase of a bathroom remodel from conception through construction and decorating. To see what we can do, visit our bathroom photo portfolio.
Whether you want to simply modernize your bath or expand with the latest of everything, count on our team to deliver a bathroom renovation for your Madison home exceeding your expectations.
Join us for inspiration.
Inspiration Galleries
Showroom
3000 Cahill Main, Suite 215
Madison, WI 53711