What is classic interior design style? Defining the design style begins with a clear understanding of the term. The word classic can mean many things, but as it applies to interior design, Merriam-Webster defines classic as 1. serving as a standard of excellence, of recognized value, 2. Traditional, enduring or 3. relating to the ancient Greeks and Romans or their culture, classical."
Rooted in these concepts, classic interior design style is timeless. Rooms reflect the classical design principles of proportion and symmetry, creating a balanced and harmonious feel.
Classic interior design style and traditional interior design style are often used interchangeably. While they share basic design tenets, there are differences. Perhaps one of the best ways to understand classic interior design style is in comparison to traditional.
Architectural detail is important to both classic interior design style and traditional design. Crown molding, picture rail, chair rail and raised paneling are featured in both. Classic interior design style may incorporate more elaborate profiles and columns or pseudo-columns.
Furniture in these design styles appeal to broader audiences than more stylized designs, such as Midcentury Modern or Contemporary. Furnishings and finishes are of high-quality and enduring. Upholstery is durable. The differences may be subtle, but the two styles diverge in the types of furnishings and finishes.
Classic interior design style embraces elegance and perhaps even opulence. Linen, silk and velvet are used in upholstery and subtle patterns, such as stripes or damask, are common. Traditional furnishings may be upholstered in cotton of various weights and weave, leather, wool or synthetics or blends, and plaids, stripes, and chintz are patterns that are often seen.
Color palettes in classic interior design style are soft and quiet, reflecting the design principle of harmony. Warm whites, creams, champagne and muted tones of blues, greens and yellows evoke serenity. Where color is used as a focal point or accent, it is rich and makes a statement. Metallics, crystal and glass are used in embellishments and accessories to enhance the opulence of the space.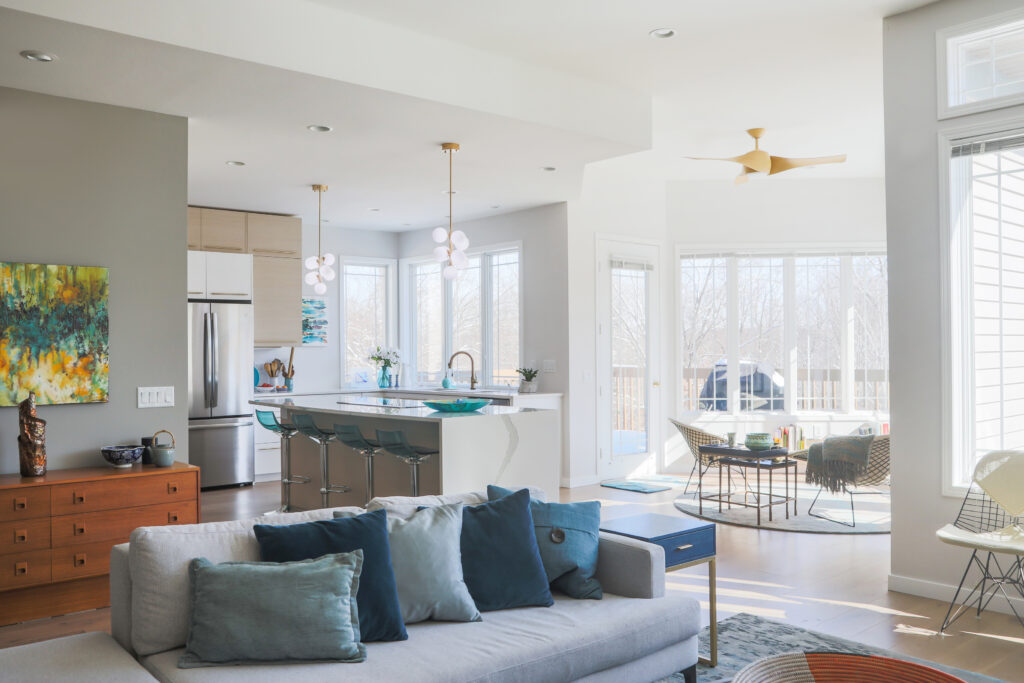 Traditional color palettes are often warmer and create a feeling of welcome. They may begin with the same warm neutrals, and add chocolate browns, deep reds, and rich blues and greens – the colors of nature – in upholstery and other fabric finishes. Accessories are less refined. Wood, ceramic, and metals such as copper and iron are typical of this style.
Flooring in classic interior design style and traditional design tends to favor natural material such as wood, often in rich stains, as well as marble in the more formal classic design. Oriental rugs may be featured in both classic interior design style and traditional design but may differ in quality and richness of color.
If the classic interior design style appeals to you, there are examples all around. Many of the buildings and residences on the East Coast reflect classic interior design style, as do many public buildings throughout the US: government buildings, banks and libraries to name a few. The exterior style suggests endurance, both in design and materials, and that same feeling is represented in the interiors. Museums are also good places to get a feeling for the esthetic in the art of the period. Just remember the basic principles: symmetry, harmony, elegance and quality.
Links to articles for a deeper look into the subject:
Style Showdown: Classic Vs. Traditional Interior Design
What Are the Design Elements of Classic Style Interiors?