Today's lifestyles make a renovation to blend inside and outside living spaces a smart decision, not only for your enjoyment but for the value of your home. There is a multitude of ways to do this. Projects may be big or small, add actual square footage to the house, extend living space from inside to outside, or simply increase the sense of space in the interior by expanding the view. When you blend inside and outside living spaces, the sense of well-being associated with being in nature is enhanced when you enter the room.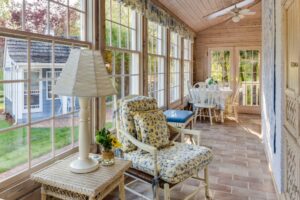 Additions can be fully open to the rest of the home or sunrooms separated from the interior by French doors. A porch or deck can be enclosed to be a seasonal or four-season space. The yard can be accessed through sliding doors, folding doors, or French doors. If opening up the envelope completely isn't an option, a pass-through window makes a good connection. Continue that connection with the patio space for relaxing, playing, and entertaining.
Adding windows or enlarging existing openings to bring more natural light and nature that much closer is a good solution where a door to the outside isn't practical or possible. On the subject of bringing in more natural light, consider skylights. Not only will a skylight increase natural light, the design, and placement can also engage the night sky, bringing in another aspect of the outdoors and with it, a nice surprise. Including evening and nighttime views adds another dimension to your design to blend inside and outside living spaces.
Once you determine which idea to blend inside and outside living spaces will work for you, like any renovation project, there are some basic considerations: questions you need to ask yourself before beginning and steps to take before you start. Not nearly as exciting as contemplating how beautiful your space will be, but absolutely necessary to ensuring a successful project that is everything you envision.
Your design to blend inside and outdoor living spaces must consider materials. The goal is a seamless transition. As you stand in the room and look outdoors, or to where your connection to outdoors will be if it doesn't already exist, think about how to carry the theme through the two spaces with color, natural elements like stone and wood, fabrics for indoor and outdoor furnishings and lighting. Frame windows simply and minimize barriers and distractions. Green and flowering plants reinforce the transition between inside and outside living spaces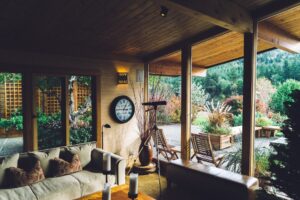 Engaging a design-build team is a great option for a project to blend inside and outside living spaces. Their experience can help optimize the renovation process. Extensive knowledge of construction, materials, and design brings opportunities you may not have known existed, especially where there are challenges of any kind. And they always maximize the impact of whatever your budget may be.
Ideas and discussions of ways to blend inside and outside living spaces are exhaustive. These articles are brimming with ideas that will surely inspire.
Blending Inside With Outside – Interior Design
Blending Indoor With Outdoor Spaces
Four Strategies for Blending Indoor and Outdoor Design